Creamy Cheesy Artichoke Spinach Dip: A true crowd pleaser that's as easy to make as it is delicious to eat. You'll want to serve it every chance you get!
If you googled Cheesy Artichoke Spinach Dip, or Spinach and Artichoke Dip rather, because apparently, it prefers to go by that name (why though? I think artichoke is much tastier and classier than spinach, so it definitely deserves to be named first, don't it?), I'm almost certain that you'd be getting something like 2 thousand  hits…
So why then did I choose to share this recipe with you today? The answer to that is quite simple: in case…
In case you've been living under a freakishly big rock for the last 15 years and never heard of it; (now that would be such a shame!)
In case you never thought that it looked all that good and as such, didn't really deserve your attention; (you should totally reconsider!)
In case you always wanted to try it but thought it looked too darn complicated to make; (I hope to convince you that nothing could be further from the truth!) 
Or in case, like me, you always thought it looked incredibly amazing and have been wanting to try it for like forever, but for some reason, never really got around to it and perhaps could use a little reminder that this delicacy actually exists. I am writing this post to bring this back to your memory and persuade you that you NEED to be making it once and for all. (I know… how evil of me, right?)
Honestly, I have no idea why it took me so long to make this. I mean, it's not like I never came across a recipe or twelve in my lifetime…
I mean, I LOVE artichokes, I would gladly marry cheese tomorrow morning if I could and always had a real big thing for spinach (seriously, have you ever seen a kid excitedly call dibs on someone else's unwanted ration of spinach before? Definitely raises hand, here! When I was a young kid, my older brother really didn't care for these greens, so I'd always claim his unwanted serving, and that would make me as happy as if I'd inherited a great big spoonful of creamy mashed potatoes. But I digress… me and my never-ending parenthesis. Sorry about that… let's end this one now) so I don't think I need to tell you that this dip is TOTALLY up my alley.
In fact, now that I FINALLY got around to trying this dreamy, cheesy dip and realized just how stupid easy it is to make and how crazy delicious it is to eat, I get the feeling that it'll get served at just about every occasion I get from now on.
Now I'm just wondering if movie night at home with the kids actually qualifies as "occasion"…
Haha! Follow me in the kitchen, if you will, so we can whip up a fresh batch together.
---
Step-by-step instructions and pictures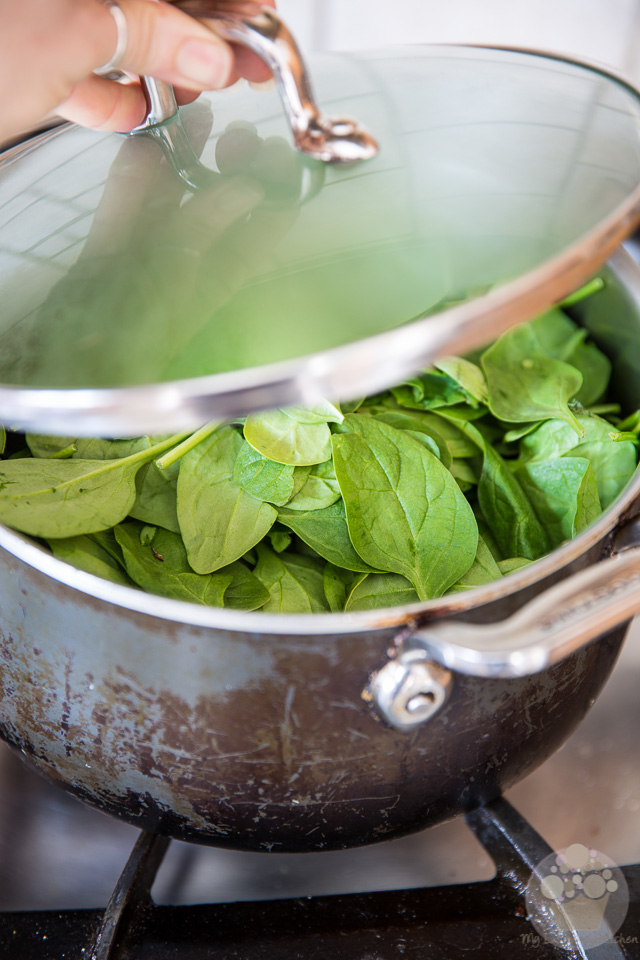 Before you do anything, preheat your oven to 350°F
Now, a lot of the recipes I've seen out there call for frozen spinach, so technically, you *could* go that route. However, I'm a big fan of fresh. In fact, I've never even tasted frozen spinach and don't really intend to. Fresh spinach is so easy to cook, so I really don't see why I would use anything else.
To cook fresh spinach, simply place it in a large stockpot set over medium heat and cover with fitting lid. There's no need to even add water or anything, as the spinach will be producing its own moisture as it cooks.
Let the spinach cook undisturbed for 60 to 90 seconds, or until it starts to wilt, then stir delicately every now and then until completely wilted, which shouldn't take more than 3-4 minutes total.
See how very little spinach is left at the bottom of the pot? That amazes me every single time…
Remove the cooked spinach from the heat, take the lid off and let the greens cool for a few minutes, until you can safely handle them with your bare hands.
Transfer the spinach to a fine mesh sieve and then squeeze as much water as you can out of it by pressing it down with a plate or bowl that fits inside the sieve. I find that a bowl works particularly well for that task, as it follows the curvature of the sieve.
You could also do that with by squeezing the cooked spinach between your hands, but if you choose to do that, make sure that you give it ample time to cool down so as not to burn yourself.
And there you have it. Spinach is now cooked, cooled and squeezed dry.
Time to make us some cheesy dip!
Grab a large mixing bowl and in it, combine the cream cheese, sour cream, garlic, lemon juice, salt, pepper and cayenne.
And erm, you may want to choose a bowl that's slightly bigger than the one I used. I mean, it looks fine now, but things are about to get a little bit cramped. Yeah, I guess you could say this is a good example of style over function.
Mix everything together with an electric mixer set on medium speed until light and fluffy, about 2 minutes.
Now artichokes, you definitely want to go with the canned variety, unless you are one extremely patient person. This is a case where fresh is like a million times better, but these weird looking veggies also happen to be fairly expensive to buy and quite complicated to clean and cook. Personally, I don't have the patience for it…
So in go the canned artichokes…
followed closely by the spinach we cooked, cooled and squeezed dry a few minutes ago…
and finally the grated cheeses.
Yeah, as you can see, things have now gotten a little tight for me… but I managed!
Mix delicately (or extremely delicately in my case) with a large spoon until all the ingredients are well combined. Oh!, you might want to save a handful of that cheese to sprinkle on top of your dip, if you want to…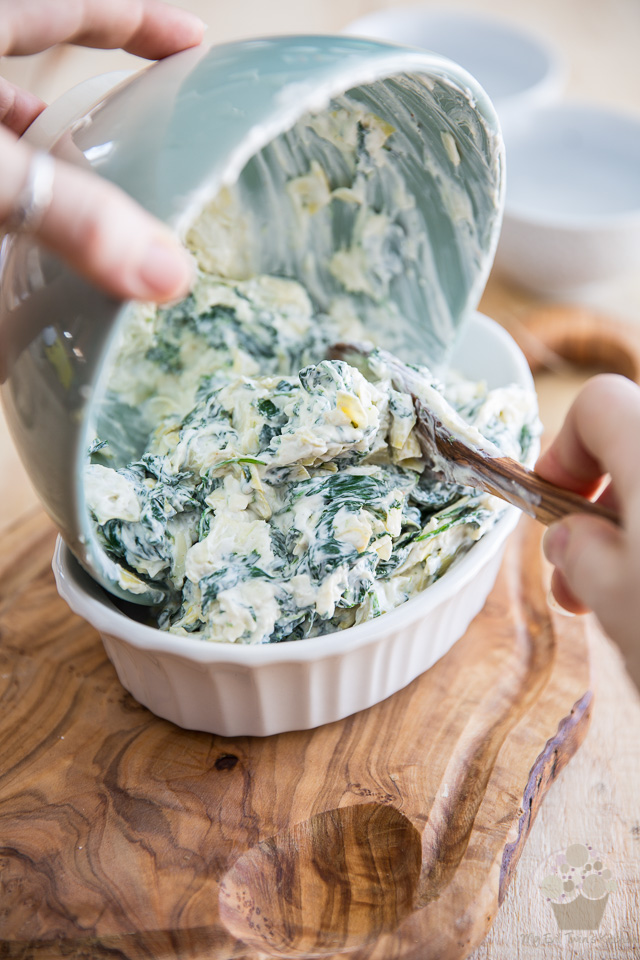 Now transfer the dip into an oven-safe dish…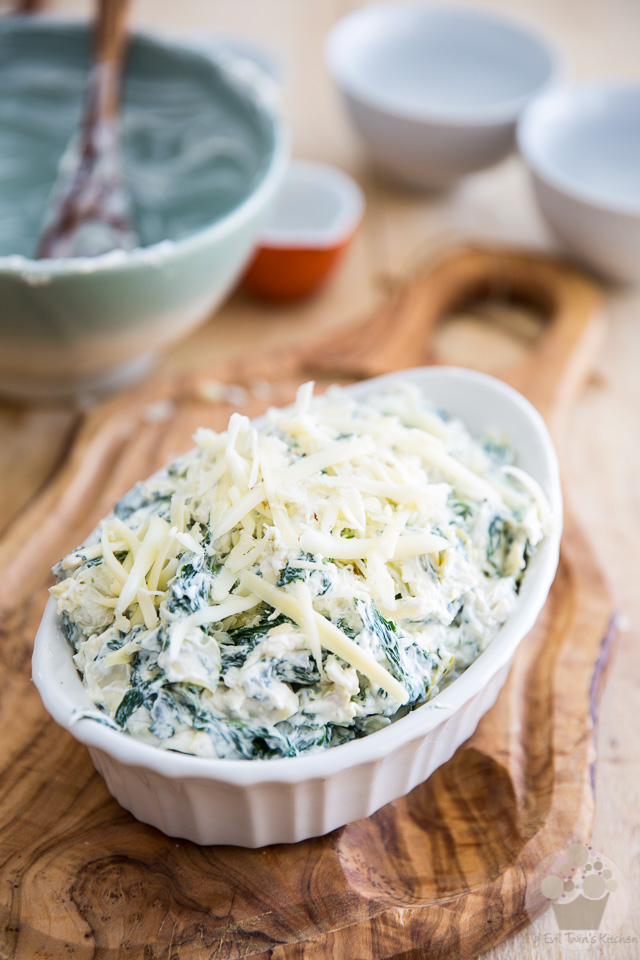 … sprinkle with that reserved handful of grated cheese (if you saved one, that is) and send your dip to the oven for 30-35 minutes or until the cheese has melted and starts bubbling on the sides and the top has turned a beautiful golden brown.
Serve hot with sliced bread, croutons, crackers pita or potato chips… or just a plain spoon!
And now, welcome to your new addiction.
No need to thank me, really… the pleasure is all mine!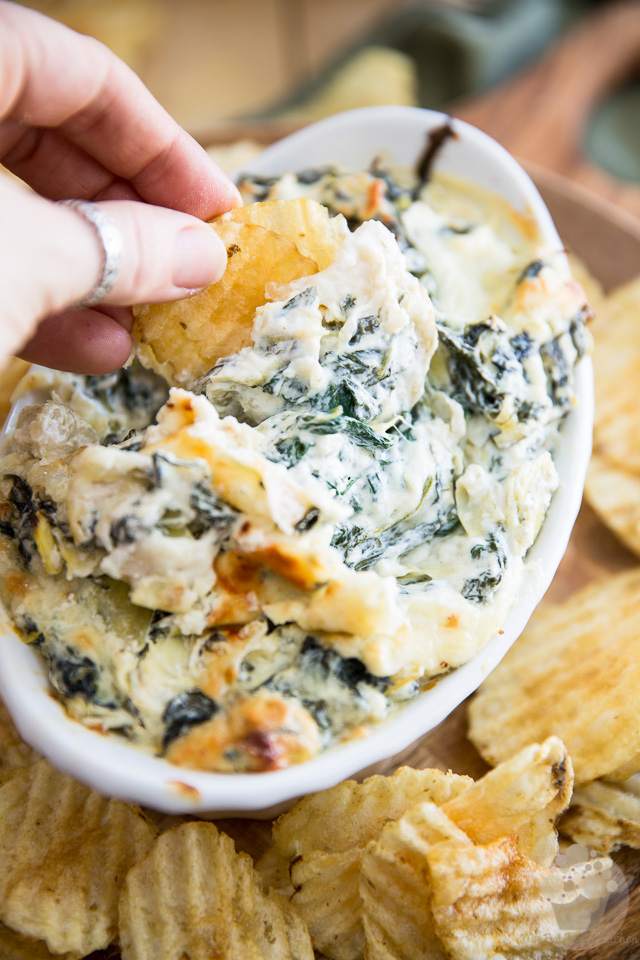 Cheesy Artichoke Spinach Dip
Ingredients
3/4 cup (170g | 6oz) cream cheese, at room temperature
1/2 cup (115g | 4oz) sour cream
the juice of 1/2 lemon
1 clove garlic, minced
1/4 tsp salt (I use Himalayan)
1/4 tsp ground white pepper
1/8 tsp cayenne pepper (optional)
454g (16oz) fresh baby spinach leaves, cooked, cooled and squeezed dry

(detailed instructions in post)

1 can (398ml | 14oz) artichoke hearts, drained and rouglhy chopped
1/2 cup (60g | 2oz) grated mozzarella cheese
1/4 cup (30g | 1oz) grated cheddar cheese
1/4 cup (30g | 1oz) grated Parmesan cheese
Instructions
Preheat the oven to 350°F
In a large mixing bowl, combine the cream cheese, sour cream, garlic, lemon juice, salt, pepper and cayenne. Mix with an electric mixer set on medium speed until light and fluffy, about 2 minutes.
Add the artichokes, spinach and cheeses and mix delicately with a large spoon until well combined (save a handful of cheese to put on top of the dip, if desired)
Transfer the dip to an oven-safe dish, sprinkle with the handful of grated cheese if you saved one, and bake for 30-35 minutes or until the cheese has melted and is bubbling on the sides and the top has turned golden brown.
Serve hot with sliced bread, crackers, pita or potato chips
Notes
https://eviltwin.kitchen/cheesy-artichoke-spinach-dip/
Copyright My Evil Twin's Kitchen - All Rights Reserved