Most of the time, I eat healthy. As in really, super healthy. So healthy, people sometimes tease me and call me a saint (or wait… was that a freak, rather?)
At any rate… For years, I must say that either denomination was almost well deserved.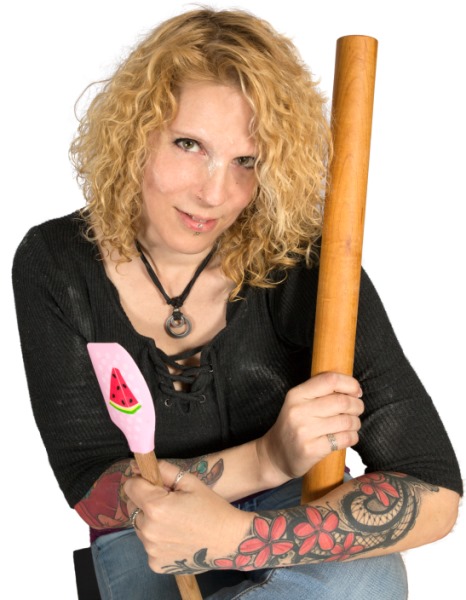 That was until I recently felt the sudden need to loosen up at tad and reacquaint with some of my old favorite sinful, "normal human" treats.
When the craving for wicked foods strike, I'm not one to run to the nearest McDonald's or KFC. If I'm going to splurge, I'd much rather prepare my own indulgences from scratch, which to me is half the fun and experience, if not more. That's when I let the one I like to refer to as "My Evil Twin" take full reign of the kitchen.
And when she's in there,  I have no control over what takes place…
A PASSION FOR BAKING
I developed a serious passion for cakes and baking in general from a very early age. I remember being fascinated with the beautiful decorated cakes and mouth-watering patisseries whenever I would pass by a bakery counter; I could've easily sat there and spent hours watching them, mystified, devouring them with my eyes and examining their every little detail. To me, they were like art; the most wonderful form or art, because not only was it beautiful to look at, but it also tasted like heaven.
I started making my own birthday cakes when I was around 10. Not that my mom didn't want to bake them for me, but because to me, baking the cake was probably half the fun, and to have someone else make it for me left me feeling deprived, in a way. Hey, after all it was MY birthday, so there was no reason why I couldn't get 100% of the fun.
Eventually, as a young adult, I went to baking school and for over 18 months, I had a blast learning the ropes of the trade. Ironically though, at the end of the program, I decided that I didn't want to make a living as a professional baker. Not because I didn't enjoy baking and all, but rather because I loved it so much that I never wanted it to become a chore, a task, a job that I would eventually get fed up with. Already, at the end of 18 months, I almost felt repulsed by the uniquely delightful and intoxicating fragrance that emanates from a bakery shop, a smell that I used to love more than love itself. I could NOT have that happen to me.
I wanted for baking and cake decorating to remain an enjoyable experience, one that I would consider to be fun and relaxing; some kind of a hobby that I would do for my own personal pleasure, on my own personal time, and of course, share with all those I love.
That plan worked perfectly well for a while and I had a great time making cakes and other baked goods for my kids, family and friends. I always looked forward to holidays, family reunions and gatherings of all kinds, so I could whip up something sweet to contribute.
Going through major life changes
Then one day, it dawned on me that I needed to lose a few pounds and take better care of my health. I was smoking A LOT at the time, and drinking more than my share, too; as for my food choices, they really weren't optimal. Needless to say that I wasn't really physically active either. So I made a New Year's resolution at the age of 34, and from that day on, completely turned my life around (you can read more about this here, if you're interested). My food choices kept getting healthier and healthier, and it wasn't long before cakes and desserts as I knew them were officially given the boot.
Sure, I kept creating desserts and all kinds of them, too: there was simply no getting that baker out of me. However, every single dessert that I'd come up with HAD to be healthy.
While most of them were actually delicious, I guess it was only a matter of time before the naughty baker in me, the one who demanded to work with butter and sugar and flour, and SUGAH resurfaced. The thing with healthy desserts is, no matter how good they are, they're a bit like having *ahem* protected sex, you know… while they can be incredibly good, they also limit your options and can sometimes leave you slightly unsatisfied.
Sooner or later, you just want to send all restraints to hell and go for it, thrusters on full!   
And I guess that's precisely what happened to me.
Finding my balance
Now that I feel I'm in much better control of my health, I figured I could afford to splurge a little bit from time to time and let my Evil Twin have full reign of the kitchen once in a while.
After all, it's been 8 full years since I last had a cigarette, or even felt like having one, for that matter. My heavy drinking is definitely a thing of the past, I will now only have a drink or two on occasion. I have successfully gotten my weight down to a healthy level and have been maintaining it there for over 5 years. Last but not least, I got into the habit of working out every day, and have no intention of quitting.
I probably should've known that I wouldn't be able to keep my alter ego locked up in a dungeon forever. After all, she's just as passionate, determined and strong-minded as I am. I wasn't all that surprised when, one day, she suddenly emerged, as if out of nowhere, and DEMANDED a little bit of air time. There was simply no turning her down.
Besides, who was I to say no?
You know what they say: all work and no play makes Jack a dull boy…
Sharing the naughtiness
Pretty much all the recipes that end up on here are dishes that I made with specific occasions in mind, or to simply share with those special people in my life whom I greatly appreciate.  And since I love logging my recipes, I figured why not post them on here to share with you all?
Since my Evil Twin has a marked passion for baking, the vast majority of the recipes you'll find on here will be of the sugary kind. But, since she also happens to have a real sweet spot for anything cheese and pasta, you can expect to see a little of bit of that, too, as well as other indulgent savory dishes.
Don't go looking or even asking for nutritional information, though: in this universe of culinary perversion, calories totally cease to exist…